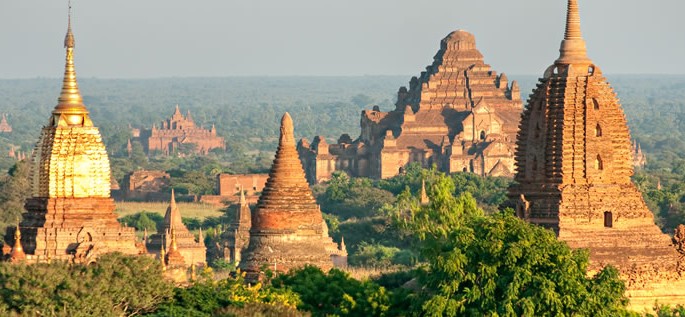 Burmese
Mingâlaba – Welcome
Burmese, myanma bhasa, belongs to the Lolo-Burmese sub-branch of the Tibeto-Burmese branch of the Sino-Tibetan language family. It is spoken by the majority of the population in Myanmar (formerly Burma). It is also spoken in Bangladesh, Malaysia, Thailand, and the U.S. The total Burmese-speaking population of the world is estimated at slightly above 32 million people (Ethnologue).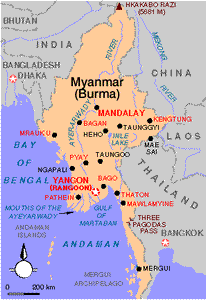 Throughout history, Burmese has been in contact with speakers of other languages such as Pali and Mon, the earliest groups to occupy Burma in the 12th-13th centuries, and later with European languages such as Portuguese, Dutch, English and French in the 16th-19th centuries. These languages have all influenced the spoken, but not on the written form of Burmese. As a result, modern colloquial Burmese used in everyday conversations differs significantly from the formal written form of the language used in textbooks, formal writing, newspapers, fiction, and expository prose. The written language retains many Pali words and syntactic structures no longer found in the spoken language.
Status
Burmese is the official language of Myanmar (since 1989, the name for Burma) where it is spoken by 32 million people. It is used in the media, government administration, and all levels of education. The use of minority languages is suppressed by the authoritarian regime.
Dialects
It is spoken in most of the country with slight regional variations. According to Ethnologue, there are several varieties such as Beik (Merguese, Mergui), Mandalay Burmese, Yangon Burmese, and Yaw. In addition, there are other regional variants that differ from standard Burmese in pronunciation and vocabulary. All dialects are mutually intelligible. Standard Burmese is based on the dialect spoken in in the lower valleys of the Irrawaddy and Chindwin rivers.
There are two registers: a formal and a colloquial one. The formal register is used in official publications, radio and TV broadcasts, literary works, and formal speech. The colloquial register is used in daily communications.
Structure
Sound system
Like all Sino-Tibetan languages, Burmese has a simple syllable structure consisting of an initial consonant followed by a vowel with an associated tone. There are no final consonants.
Vowels

Burmese has eight vowel phonemes, i.e., sounds that distinguish word meaning. In addition, there are four diphthongs: /ei/, /ai/, /ou/, /au/.
/ɛ/ = e in bet
/ə/ = a in about
/ɔ/ = o in bog
Consonants

Burmese has a fairly complex system of consonants, as presented in the table below. Consonants in parentheses are extremely rare or used only in loanwords. There is a three-way contrast between plain (unaspirated), aspirated, and voiced consonants, e.g., /p -pʰ-b/. There is also a two-way contrast between voiced and voiceless nasals and lateral approximants, e.g., /m-hm/, /l-hl/.
/ʔ/ = sound between the syllables in uh-oh
/θ/ = th in thin
/ð/ = th in those
/ʃ/ = sh in shop
/ʒ/ = s in vision
/tʃ/ = ch in chop
/dʒ/ = j in job
/hm, hn, hɲ, hl/ have no equivalents in English.
/ɲ/ = first n in canyon
/ŋ/ = ng in song
Tones
Burmese is a tonal language. This means that all syllables have prosodic features that are an integral part of their pronunciation and that affect word meaning. Prosodic contrasts involve not only pitch, but also phonation, intensity (loudness), duration, and vowel quality. According to one analysis, Burmese has 4 tones (examples below are taken from Wikipedia):
| | | | |
| --- | --- | --- | --- |
| Tone | Notation | Description | Example |
| Low | à | low pitch | kʰà 'shake' |
| High | á | slightly breathy, high pitch | kʰá 'be bitter' |
| Creaky | a~ | Tense or creaky, high pitch | kʰa~ 'fee' |
| Checked | aʔ | final glottal stop, high pitch | kʰaʔ 'draw off' |
Grammar
Burmese is an analytic language which means that grammatical functions are expressed by word order and by postpositional particles rather than by inflections as is the case in Indo-European languages. Particles include subject markers, equivalents of prepositions, and classifiers, i.e., words used in counting. Particles can also have discourse functions, for example, to indicate the topic of a sentence.
Noun phrase
Nouns are not marked for gender, number or case.
Modifiers (including relative clauses) precede the nouns they modify, e.g, di mìpon 'this/these lantern(s)'.
Burmese nouns require classifiers for quantifying count nouns. A noun in Burmese can occur with only one classifier. There are dozens of classifiers, and one has to learn which classifier goes with which noun. Numerals and classifiers follow the quantified nouns, e.g.,θwà-lè-hcàun, literally 'tooth four peg' 'four teeth'.
Verb phrase
Most Burmese verbs consist of a root plus separate particles that represent mood, aspect, tense, positive/negative, and politeness.
Burmese verbs are not conjugated, i.e., they remain unchanged, regardless of person, number, or tense.
Politeness markers
There are various politeness markers. They play an extremely important role in the language. Their use depends on who is speaking to whom, for instance, women use shin 'sir or madam' at the end of a sentence to show respect to the listener, while men use khâmja for that purpose.
Word order
The normal word order in Burmese is Subject-Object-Verb. The verb and its modifiers occupy a final position in a sentence, while all other elements are ordered somewhat freely before it.
Vocabulary
Hinduism and Buddhism have had a profound religious and linguistic effect on Burmese. As a result, learned or specialized words which came into the spoken language through the written one often contain Pali loanwords, similar to Latinate words in English. British rule (1886-1937) brought a large number of English words into the language, particularly those related to business, technology, science and politics. As a result, sometimes there are competing terms, one borrowed and one native, for instance, telibihyn and yoʔmiyin θanea, literally 'image-see sound-hear', i.e, 'television'. New words are normally formed from native elements through compounding, prefixation and reduplication.
Below are a few words and phrases in Burmese (in transliteration)
| | |
| --- | --- |
| Formal greeting at any time of the day | Mingâlaba (formal) |
| Good bye | Thwa dau me |
| Please | Kyeizu pyu yue |
| Thank you | Kyeizu tin ba de |
| Yes. | Hode |
| No. | Mahobu |
Below are the numerals 1-10 in Burmese in Romanization.
| 1 | 2 | 3 | 4 | 5 | 6 | 7 | 8 | 9 | 10 |
| --- | --- | --- | --- | --- | --- | --- | --- | --- | --- |
| tit | hnit | thòu | lay | ngà | chauk | kún- hni | shit | kòe | ta-se |
Writing
The influence of Hinduism and Buddhism is evident in the orthography still in use today. Burmese script is an adaptation of the Mon script, which in turn, derived from Pali, the language of Theravada Buddhism, and ultimately from the Brahmi script of India. Because this script was designed to represent the sound system of an Indo-Aryan language, it is not ideally suited to represent the sounds of Burmese, a Sino-Tibetan one. Thus, there are serious discrepancies between the orthography and pronunciation.
Burmese is written with a syllabic script. Its basic unit is a consonant-based syllable with an inherent /a/ vowel which is suppressed by a circular stroke above the character. It is written horizontally from left to right and its basic set of symbols consists of 33 consonants and 14 vowels. Symbols for vowels may be written before, above, below, or to the right of the letter representing an initial consonant. The combinations of consonants and diacritic vowels are often represented by special ligatures. Although Burmese is a tonal language, tones are usually not marked but implied by the vowels. Spaces are used to separate phrases, not words: a single vertical bar marks a small break, a double vertical bar marks the end of a sentence.
The Burmese alphabet consists almost entirely of circles or portions of circles used in various combinations, as can be seen in the sample below. It evolved at a time when letters were etched on palm leaves with a stylus, and. straight lines would have torn the leaves. Because of its rounded appearance, the script resembles the Indic scripts. There is no standardized system for Romanizing Burmese, despite several attempts dating back to the British colonial regime.


Universal Declaration of Human Rights
All human beings are born free and equal in dignity and rights. They are endowed with reason and conscience and should act towards one another in a spirit of brotherhood.
Difficulty