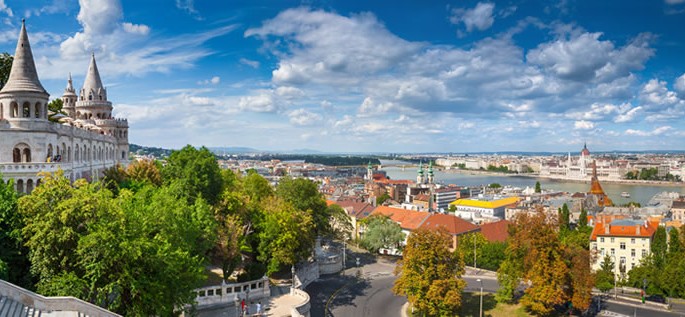 Hungarian
Üdvözöljük – Welcome
Hungarian (Magyar) is a member of the Uralic language family. It is the largest of the Uralic languages in terms of the number of speakers and the only one spoken in Central Europe. Its closest relatives are Khanty and Mansi, minority languages of Russia, spoken 2,000 miles away, east of the Ural mountains in northwestern Siberia. It is estimated that Hungarian has been separated from Khanty and Mansi for about 2,500-3,000 years.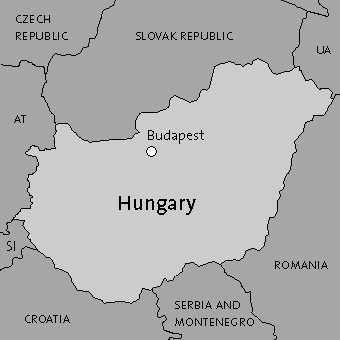 Linguists believe that the ancestors of modern Hungarians first migrated westward from the eastern slopes of the Ural mountains into the steppes of southern Russia in the 4th-6th centuries, and eventually moved further westward into the Danube basin west of the Carpathian Mountains in the 9th century. Over the centuries, the Hungarians have become assimilated into the surrounding European cultures. Only their language testifies to their origin in Asia.
Status
Hungarian is spoken by 9,840,000 people in Hungary. It is the country's official language used in education and government administration. It is one of the official languages of the European Union. There are sizable populations of Hungarian speakers in Romania, the Czech and Slovak Republics, the former Yugoslavia, Ukraine, Israel, and the U.S. Smaller pockets of Hungarian speakers live in Canada, Slovenia, and Austria. The total number of speakers of Hungarian worldwide is 12,605,590 (Ethnologue).
Click on the MLA Interactive Language Map to find out where Hungarian is spoken in the U.S.
Dialects
Standard Hungarian is based on the variety spoken in the capital of Budapest. Although use of the standard dialect is enforced, Hungarian has a number of urban and rural dialects. Ethnologue identifies the following dialects of Hungarian:
Central Transdanubian
North-eastern Hungarian
Palóc
Southern Great Plains
Southern Transdanubian
Tisza–Körös
Western Transdanubian
Oberwart spoken in Austria
Csángó spoken in Rumania
Speakers of standard Hungarian have difficulty understanding the Oberwart dialect spoken in Austria and the Csángó dialect spoken in Rumania.
Structure
Sound system
The Hungarian sound system is rich in both vowels and consonants.
Vowels

Hungarian has 14-15 vowels. There are 7 or 8 short vowels. In the table below, long vowels are marked by a macron over the vowel. Seven of the short vowels have long counterparts which are represented in writing with an acute accent í, é, ú, ó, á, õ, ű. One of the salient characteristics of Hungarian is vowel harmony which means that, with a few exceptions, stems with front vowels can be followed by only by suffixes containing front vowels, while stems with back vowels can only be followed by suffixes that contain back vowels.
/y/ = second vowel in statue
/ø/ has no equivalent in English
/ɛ/ = e in set
/ɒ/ in some pronunciations of cot-caught
Consonants
Hungarian has more consonant phonemes than other Uralic languages. Unlike other Uralic languages, Hungarian features an opposition between voiced and voiceless stops, fricatives and affricates, as well as between plain and palatalized stops and nasals. The Hungarian consonant phonemes are given below.
/tʲ/, /dʲ/, /kʲ/, /nʲ/ = palatalized consonants pronounced with the blade of the tongue coming in contact with the hard palate
/ʃ/ = sh in shop
/ʒ/ = s in vision
/tʃ/ = ch in chap
/dʒ/ = j in job
/cç, ɟʝ/ have no equivalents in English
/ɲ / = first n in canyon
/ŋ/ = ng in song
/j/ = y in yet
Grammar
Like other Uralic languages, Hungarian features a combination of agglutinative and fusional elements. In an agglutinative language, grammatical suffixes are added to stems in a prescribed sequence, with each suffix representing one grammatical function. In a fusional (inflecting) language, several grammatical functions are represented by one suffix.
Nouns
Hungarian nouns consist of a stem + number suffix + possessor suffix + case suffix.
There are two numbers: singular and plural.
Gender is not marked.
There are seven non-local cases (nominative, accusative, dative, instrumental, causative, translative, terminative,) and ten local cases. The local cases are determined by such factors as exterior/interior, moving/stationary, away from/towards, etc.
Verbs
Hungarian verbs consist of a stem + tense/mood suffix + person/number suffix.
There are two tenses: present and past.
There are three moods: indicative, conditional and subjunctive.
The person/number suffix represents the person/number of the subject and the person of the object.
Word order
The normal word order in Hungarian is Subject-Verb-Object. . At the same time, word order is determined by topic and comment. Topic is the part of the sentence that is known, while comment is the new information that is being added about the topic. In Hungarian sentences, topic comes first. A certain amount of flexibility allows speakers to express emphasis.
Vocabulary
The basic vocabulary of Hungarian reflects its Uralic origin. The language has also borrowed a large number of words from other languages. Some of the earliest borrowings came from Iranian and Turkic languages during the Hungarian migrations. Later borrowings from German, Italian, French, slavic languages, and English entered the language after the Hungarians settled in Europe.köszönömBelow are some common phrases in Hungarian.
| | |
| --- | --- |
| Hello! | Szia, zervusz |
| Goodbye | Viszlát!/Viszontlátásra |
| Thank you | Köszönöm |
| Please | Kérlek/Kérem |
| Excuse me! | elnézést, bocsánat |
| Yes | Igen/de |
| No | Nem/ne |
| Man | Férfi |
| Woman | Nő, asszony |
Below are Hungarian numerals 1-10.
| 1 | 2 | 3 | 4 | 5 | 6 | 7 | 8 | 9 | 10 |
| --- | --- | --- | --- | --- | --- | --- | --- | --- | --- |
| egy | kettő | három | négy | öt | hat | hét | nyolc | kilenc | tíz |
Writing
Much of early Hungarian history was recorded in runic writings carved into stone, clay, leather and wood. When Saint Stephen, First Christian King of Hungary, converted the Magyar people to Catholicism, he ordered all runic writings to be destroyed. As a result, very few of them have survived.
Click here to learn more about ancient Hungarian runic writing.
Hungarian is written with the Latin alphabet. In addition to the standard letters of the Latin alphabet, Hungarian uses several additional letters. These include vowels with acute accents á, é, í, ó, ú which represent long vowels, the diaereses ö and ü, and their long counterparts ő and ű. The alphabet also uses a number of digraphs and trigraphs. The letters q, w, x and y are used only in foreign names and loanwords.
| | | | | | | | | | | | | | | |
| --- | --- | --- | --- | --- | --- | --- | --- | --- | --- | --- | --- | --- | --- | --- |
| a | á | b | c | cs | d | dz | dzs | e | é | f | g | gy | h | I |
| í | j | k | l | ly | m | n | ny | o | ó | ö | ő | p | r | s |
| sz | t | ty | u | | | | v | z | zs | | | | | |
Take a look at Article 1 of the Universal Declaration of Human rights in Hungarian.
1. Cikk
Minden emberi lény szabadon születik és egyenlő méltósága és joga van. Az emberek, ésszel és lelkiismerettel bírván, egymással szemben testvéri szellemben kell hogy viseltessenek.
Article 1
All human beings are born free and equal in dignity and rights. They are endowed with reason and conscience and should act towards one another in a spirit of brotherhood.
Did You Know?
These words came into English from Hungarian, sometimes by way of other languages.
| | |
| --- | --- |
| coach | 'large carriage', from Middle French coche, from German kotsche, from Hungarian kocsi 'carriage' of Kocs, the village where it was first made |
| goulash | from Hungarian gulyashus, from gulyas 'herdsman' + hus 'meat'. It refers to 'beef or lamb soup made by herdsmen while pasturing'. |
| paprika | from Hungarian paprika |
| saber | 'single-edged sword', from French sabre 'heavy, curved sword', from German Sabel, probably ultimately from Hungarian szablya 'saber', literally 'tool to cut with,' from szabni 'to cut'. |
Difficulty