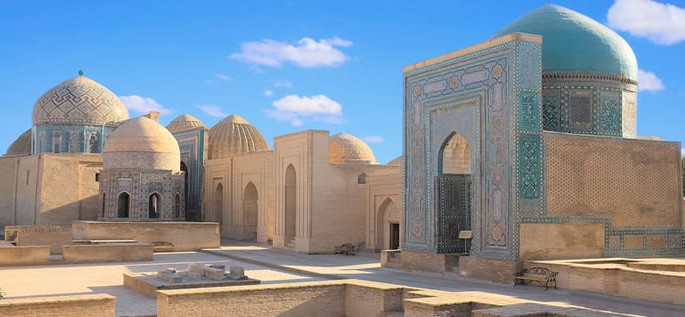 Uzbek
Salom, салом – Hello
Uzbek (O'zbek tili/O'zbekcha, Ўзбек тили, أۇزبېك ﺗﻴﻠی) is a member of the Turkic branch of the Altaic language family. Uzbek is a macrolanguage that consists of two distantly related languages: Northern and Southern Uzbek. They are distinct languages whose speakers can understand each other only with difficulty due to differences in pronunciation, grammar, and vocabulary.
Uzbek is descended from Chagatai Turkic, an extinct Turkic language which once served as a lingua franca in Central Asia. The word Chagatai relates to the Chagatai Khanate, the western part of the Mongol empire, left to Genghis Khan's second son Chagatai Khan. In the 14th century, the Chagatai Khanate was conquered by Timur, a native of Samarkand. Timur's successors were later ousted from the Chagatai Khanate by the Uzbeks. The Kazakhs, originated as dissident Uzbeks during the same period. Both groups became part of the Soviet Union in 1917. After the fall of the Soviet Union,Uzbekistan and Kazakhstan became independent countries.
Status

Northern Uzbek is spoken by 21.3 million people in Uzbekistan. It is also spoken in other Central Asian countries, in addition to small expatriate communities in North America, Australia, and Europe . It is estimated that the total numbers of speakers of Uzbek worldwide is around 24 million (Ethnologue). In 1989, Northern Uzbek became the official language of the Republic of Uzbekistan. Today it is used in the country's media, education, entertainment, business, and government. More than half of the newspapers in Uzbekistan are published in Uzbek. Education in Uzbek is available from elementary to post-secondary level.
Southern Uzbek is a related language spoken by about 2.9 million people in Afghanistan. It is a provincial statutory language in several of the country's northern provinces (Ethnologue).
Dialects
Northern Uzbek dialects are usually divided into two groups:
the "O" group, which includes the dialects of Tashkent, Samarkand, Bukhara and the surrounding regions, e.g., odam 'man'
the "A" group, e.g., adam 'man'.
Standard Uzbek is based on the Tashkent-Fergana dialect.
Structure
Sound system
Unlike all other Turkic languages, Uzbek does not have vowel harmony, a type of phonological process that involves constraints on which vowels may be found near each other.
Vowels
Northern Uzbek has 5 vowel phonemes, i.e., sounds that distinguish word meaning. Vowels can be either short or long. Vowel length makes a difference in word meaning. Long vowels do not occur at the beginning of words. Unlike all other Turkic languages,
The table below shows the vowels of Uzbek..
Consonants
Northern Uzbek has 25 consonant phonemes, i.e., sounds that distinguish word meaning.
/ʔ/ = sound between the vowels in uh-oh
/q, x, ɣ/ have no equivalents in English
/ʃ/ = sh in shop
/ʒ/ = s in vision
/tʃ/ = ch in chop
/dʒ/ = j in job
/ŋ/ = ng in song
/j/ = y in yet
Stress
Uzbek words are normally stressed on the final syllable.
Grammar
Like all Turkic languages, Uzbek is agglutinative, i.e., grammatical relations are indicated by the addition of suffixes to stems. There are no prefixes. There is a one-to-one relationship between suffixes and their meanings, so that suffixes are strung together one after another, sometimes resulting in long words. There are various rules for the ordering of suffixes. Uzbek uses post-positions rather than prepositions to signal grammatical relationships.
Noun phrase
Uzbek nouns are marked for number (singular and plural).
There is no grammatical gender.
There are five cases: nominative, genitive, dative, accusative, ablative. Cases are marked by inflectional suffixes and governed by verbs and post-positions.
There are no articles.
Verb phrase
Verbs agree with their subjects in person and number. Verbs have the following grammatical categories:
Word order
The normal word order in Uzbek is Subject – Object – Verb, but other word orders are possiblefor marking topic and comment in discourse, e.g., Men kitob yozdim 'I book wrote'. As a language where objects precede the verb, Uzbek has post-positions rather than prepositions, and relative clauses that precede the verb, e.g., Biz non haqida gapirdik 'We bread about talked'. Adjectives precede the nouns they modify.
Vocabulary
Uzbek lexicon is basically Turkic with borrowings from Arabic, Persian, and Russian. Northern Uzbek is influenced by Arabic (through Islam) and by Russian from the time when Uzbekistan was under czarist and Soviet domination, e.g., magazin from Russian magazin 'store,' televizor from Russian televizor 'TV set,' telefon trubkasi 'telephone receiver' from Russian telefonnaya trubka. Southern Uzbek has borrowed from Arabic, Persian, Dari, Pashto, and Tajik. Most of the Arabic loanwords came through Persian.
Below are some common words and phrases in Uzbek.
| | | |
| --- | --- | --- |
| Hello | salom | caлoм |
| Good bye | Xayr | хайр |
| Thank you | Raxmat | раҳмат |
| Please | Marxamat | марҳамат |
| Sorry, pardon | Kechiring | кечиринг |
| Yes | Xa | ҳа |
| No | Yo'q | йўк |
| Man | Odam/adam | одам/адам |
| Woman | Ayol | айол |
Below are Uzbek numerals 1-10n Cyrillic and Latin scripts.
| | 1 | 2 | 3 | 4 | 5 | 6 | 7 | 8 | 9 | 10 |
| --- | --- | --- | --- | --- | --- | --- | --- | --- | --- | --- |
| Cyrillic | бир | икки | уч | тўрт | беш | олти | етти | саккиз | тўққиз | ўн |
| Latin | bir | ikki | uch | to'rt | besh | olti | yetti | sakkiz | to'kkiz | o'n |
Writing
Over the course of its history, Uzbek was written in several scripts.
An early form of Uzbek, known as Chagatai (named after one of the sons of Genghis Khan) and written with the Arabic script, emerged as a literary language in the 14th century.
A Latin-based alphabet for Northern Uzbek was adopted in 1927.
In 1940, the Roman alphabet was forcibly replaced by a modified version of the Cyrillic alphabet that is still in use today. Letters that were added to the Cyrillic alphabet to represent Uzbek sounds are normally listed at the end of the alphabet. Letters that are used only in borrowed words are given in parentheses.
In 1995, an official Latin-based alphabet was introduced, however, the use of Cyrillic continues to be widespread. The deadline for making the switch to Latin has been pushed back a number of times. Some scholars believe that the switch will not be made at all. The official 1995 Uzbek alphabet is given below.
in the Xinjiang province of China, Uzbek speakers continue to write using a modified Perso-Arabic alphabet, like that used for Uyghur. The same is true of Southern Uzbek spoken in Afghanistan.
Modified Cyrillic-based alphabet for Uzbek

А а

Б б

В в

Г г

Д д

E e

Ë ë

Ж ж

З з

И и

Й й

К к

Л л

М м

Н н

O o

П п

Р р

С с

Т т

У у

Ү ү

Ф ф

Ц ц

Х х

Ч ч

Ш ш

(Щ щ)

Ы ы

(ъ)

Э э

Ю ю

Я я

Ў ў

Қ қ

Ғ ғ

Ҳ ҳ
Modified Latin-based alphabet for Uzbek

А а

B b

D d

E e

F f

G g

H h

I i

J j

K k

L l

M m

N n

O o

P p

Q q

R r

S s

T t

U u

V v

X x

Y y

Z z

O' o'

G' g'

Sh sh

Ch ch

Ng ng
Take a look at Article 1 of the Universal Declaration of Human Rights in Uzbek.
Cyrillic
1-модда
Барча одамлар эрҝин, қадр-қиммат ба ҳуқуқларда танг бўлиб ту иладилар. Улар ақл ва виждон соҳибидилар ва бир-бирла ига биродарларча муомала қилишлари зарур.
Latin
1-modda
Barcha odamlar erkin, qadr-qimmat ba huquqlarda tang bo'lib tug'iladilar. Ular aql va vijdon sohibidilar va bir-birla iga birodarlarcha muomala qilishlari zarur.
All human beings are born free and equal in dignity and rights. They are endowed with reason and conscience and should act towards one another in a spirit of brotherhood.
Difficulty