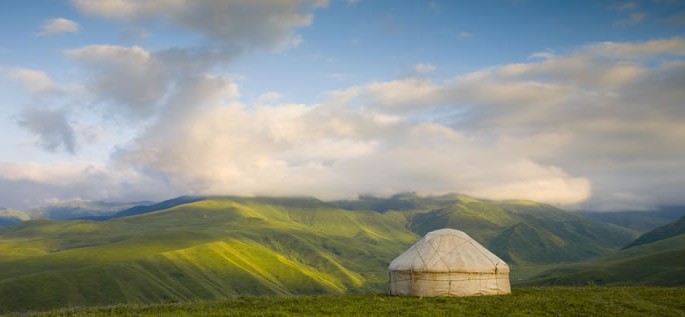 Kazakh Language
Khosh keldiniz – Welcome
Kazakh (Qazaq tili, Қазақ тілі) is a member of the Turkic branch of the Altaic language family. Like all Turkic languages, it is believed to have descended from Chagatai, an extinct Turkic language which once served as a lingua franca in Central Asia. The word Chagatai refers to the Chagatai Khanate, the western part of the Mongol empire. In the 14th century, the Chagatai Khanate was conquered by Timur, a native of Samarkand. Timur's successors were later ousted from the Chagatai Khanate by the Uzbeks. The Kazakhs originated as dissident Uzbeks during the same period. Both groups became part of the Soviet Union in 1917. In 1991, after the fall of the Soviet Union, Kazakhstan became an independent country.
Status
Kazakh, is the state language of the Republic of Kazakhstan. It is estimated that it is spoken by 64.4% of the country's 18-million population (CIA World Factbook) with its use strongly promoted by the government. Even though Kazakh is the official language of Kazakhstan, Russian plays a dominant role. Designated as the "language of interethnic communication", it continues to serve as the official language used in everyday business by an overwhelming majority of the population. Students are taught in Russian, although Kazakh is being increasingly used in education. Kazakh is being increasingly used in print and electronic media. Business and government affairs ares still mostly conducted in Russian. While the majority of ethnic Kazakhs speak Russian, few ethnic Russians have learned Kazakh. Kazakh is also spoken by over a million people in the Xinjiang Uyghur Autonomous Region of the People's Republic of China where it has no official status. In addition, Kazakh is spoken in Afghanistan, Iran, Kyrgyzstan, Mongolia, Russia, Tajikistan, Turkey, Turkmenistan, Ukraine, and Uzbekistan. Interestingly, Germany has a number of Kazakh-speaking Volga Germans who were deported by Stalin to Kazakhstan in 1941, and who subsequently repatriated to Germany after the collapse of the Soviet Union.
Dialects
Ethnologue divides Kazakh into three mutually intelligible dialect groups:
Northeastern Kazakh which serves as the basis for the standard language
Southern Kazakh
Western Kazakh
Structure
Sound system
Vowels
Kazakh has 9 vowels vowel phonemes, i.e., sounds that make a difference in word meaning. They can be long or short. Vowel length makes a difference in word meaning. As all other Turkic languages, Kazakh is characterized by vowel harmony, that imposes constraints on which vowels may be found near each other in a word. Vowels in Kazakh words must harmonize with one another in terms of front versus back, and rounded versus unrounded. For example, if the first vowel in a word is a front rounded vowel such as /y/ or /ø/, all the other vowels in that word must also be /y/ or /ø/ since these are the only two front rounded vowels in Kazakh.
/y/ = second vowel in statue
/ø/ has no equivalent in English
/æ/ = a in cat
/ɨ/ similar to e in roses
Consonants
Kazakh has a large inventory of consonants. The language is rich in velar and uvular consonants. There are no consonant clusters at the beginning or end of words. Consonants in parentheses in the table below do not occur in native Kazakh words and are found exclusively in loanwords.
/ʃ/ = sh in shop
/ʒ/ = s in vision
/ɕ/ has no equivalent in English
/tɕ/ is similar to ch in cheap
/ŋ/ = ng in song
/j/ = y in yet
Stress
Stress in Kazakh words usually falls on the final syllable.
Grammar
Like all Turkic languages, Kazakh is agglutinative, i.e., grammatical relations are indicated by the addition of suffixes to stems. Suffixes are strung together one after another, occasionally resulting in long words.
Nouns
There are two numbers: singular and plural.
There are seven cases for nouns and pronouns: nominative, genitive, dative, accusative, locative, ablative, and instrumental. Cases are marked by inflectional suffixes whose forms depend on whether the stem ends in a front vowel, a back vowel, a voiced consonant, or a voiceless consonant.
There is no definite article.
There is no grammatical gender.
Pronouns
There is an informal second person pronoun sen 'you (singular informal)' and sender 'you (plural informal)'.
There is also a second person pronoun siz 'you (singular formal)' and sizder 'you (plural formal)'.
There is no gender distinction in third person pronouns: ol refers to 'he, she, it'.
Verbs
Kazakh verbs agree with their subjects in person and number. Verbs have the following grammatical categories:
two numbers: singular and plural
three persons: 1st, 2nd, 3rd
three tenses: present, past, future that are formed with auxiliary verbs
five moods: indicative, dubitative, imperative, conditional, subjunctive
two voices: active and passive with different forms for passive transitive and passive intransitive verbs
Evidentiality is required at all times. It indicates whether evidence exists for a given statement, i.e., it contrasts direct information (reported directly) and indirect information (reported indirectly).
There are fairly complex rules for interrogative and negative forms.
Word order
Word order in Kazakh sentences is normally Subject – Object – Verb, although some permutations are possible where the context demands.
Vocabulary
The basic vocabulary of Kazakh is Turkic, but according to some experts, Kazakh has been influenced by Russian more than any other Turkic language of the former Soviet Union. Other lexical influences also include Arabic and Persian. Below are some basic words and phrases in Kazakh (in Cyrillic script).
| | |
| --- | --- |
| Hello | Cәleм |
| Good bye | Кош болыңыз |
| Thank you | Paқмет |
| Please | Өтiнемiн |
| Excuse me | Кешiрiңiз |
| Yes | Иә |
| No | Жоқ |
| Manе | Еркек |
| Woman | Әйел |
Below are the numbers 1-10 in Kazakh Latin and Cyrillic scripts.
| | | | | | | | | | | |
| --- | --- | --- | --- | --- | --- | --- | --- | --- | --- | --- |
| | 1 | 2 | 3 | 4 | 5 | 6 | 7 | 8 | 9 | 10 |
| Latin | bir | yeki | ush | tort | bes | alti | zhetti | segiz | toghiz | on |
| Cyrillic | бip | eкi | үш | төрт | бec | aлты | жетi | ceгiз | тоғыз | oн |
Writing
Kazakh has been written with several different scripts.
Until 1929, Kazakh was written with the Arabic script.
From 1929 to 1940, it was written with the Roman script.
From 1940 on, Kazakh was written with a modified version of the Cyrillic alphabet that contains 42 letters, 33 of them taken from the Russian alphabet and 9 specifically designed to represent Kazakh sounds. This alphabet is not well suited for representing the sounds of Kazakh. Cyrillic was imposed on the Kazakhs for political and ideological reasons, without considering how well it suited the Kazakh language. It is given below. Letters in parentheses do not occur in native Kazakh words. They are used exclusively in loanwords.
Cyrillic alphabet for Kazakh (Қазақ кирилл әліпбиі)

А а

Ә ә

Б б

(В в)

Г г

Ғ ғ

Д д

E e

Ë ë

Ж ж

З з

И и

Й й

К к

Қ қ

Л л

М м

Н н

Ң ң

О о

Ө ө

П п

Р р

С с

Т т

У у

Ұ ұ

Ф ф

Х х

Һ һ

(Ц ц)

(Ч ч)

Ш ш

(Щ щ)

(ъ)

Ы ы

I i

(ь)

Э э

Ю ю

Я я

Ы ы
The government of Kazakhstan started talking about a switch to a Latin-based alphabet in 1990, and has been working on such a switch in a start-and-stop manner since 2006. Due to a strong opposition to the switch, it now appears that it will not be finalized until some time in the 2020s.
Take a look at Article 1 of the Universal Declaration of Human Rights in Kazakh in Cyrillic and in one of the versions of the Latin script.
1 бап Барлық адамдар тумысынан азат және қадір-қасиеті мен кұқықтары тең болып дүниеге келеді. Адамдарға ақыл-парасат, ар-ждан берілген, сондықтан олар бір-бірімен туыстық, бауырмалдық қарым-қатынас жасаулары тиіс.
1 bap Barlıq adamdar tumısınan azat jäne qadir qasyeti men kûqıqtarı teŋ bolıp dünyege keledi. Adamdarġa aqıl parasat, ar ojdan berilgen, sondıqtan olar bir birimen tuıstıq, bauırmaldıq qarım qatınas jasauları tyis.
All human beings are born free and equal in dignity and rights. They are endowed with reason and conscience and should act towards one another in a spirit of brotherhood.
Difficulty