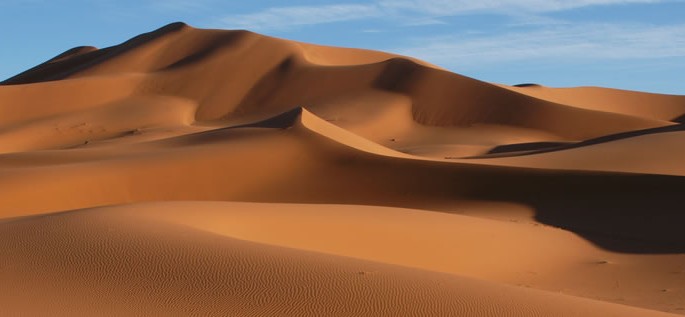 Arabic (Moroccan Spoken)
Ahlan wa sahlan! – Welcome
Moroccan Arabic, also known as Maghrebi Arabic, Maghribi, Moroccan Colloquial Arabic, Moroccan Dareja, Moroccan Darija, Moroccan Dereja, is a continuum of dialects spoken in Morocco, Algeria, Tunisia, and Western Sahara. Magreb (which means 'western' in Arabic) is the region of Africa north of the Sahara desert and west of the Nile river. Moroccan Arabic is spoken by some 19 million people in Morocco. The worldwide population of Moroccan Arabic speakers is over 21 million (Ethnologue). It must be noted that Moroccan Arabic is almost unintelligible to speakers outside of the Maghreb.
Status
Language use in the Maghreb countries is characterized by diglossia, i.e., proficiency in both a local variety of Arabic and in Modern Standard Arabic (MSA). The two languages operate side-by-side, each with a specialized function.
Modern Standard Arabic (MSA)
MSA is the official language of Algeria, Tunisia, and Morocco. It is used in all formal situations, such as sermons, lectures, news broadcasts, and speeches, and in all formal writing, such as official correspondence, literature and newspapers. There are no native speakers of MSA, and the majority of educated Arabs learn it through formal schooling, although many Arabs without such schooling can understand it to varying degrees. MSA is quite uniform throughout the Arab world and serves as a lingua franca for speakers of various spoken dialects, some of which are not mutually comprehensible.
Morocco
Since Morocco is a former French colony, French continues to be an important language in formal contexts where it competes with MSA, particularly in higher education and in written communication. A good percent of print and electronic media also use French.
Tunisia
French plays a major role in the country, despite having no official status. It is widely used as the language of instruction, especially in the sciences, in secondary schools, in the press, and in business. Most educated Tunisians are able to speak French. Many Tunisians, particularly those residing in large urban areas, mix Tunisian Arabic with French. While children generally acquire Tunisian Arabic at home, when they enter school at age 6, they are taught to read and write in MSA. From the age of 8, they are taught French while English is introduced at age 12.
Algeria
Algerian Arabic is spoken by about two-thirds while Berber languages are spoken by about a third of Algeria's population. Modern Standard Arabic is Algeria's only official language, but is recognized as the de facto national language. French is still the most widely studied foreign language, and many Algerians speak it fluently. Since independence, the Algerian government has pursued a policy of Arabization of education and government, although many university courses are still taught in French. French is also widely used in the media and in business.
Dialects
Maghrebi dialects form a continuum of varieties that overlap with each other across country borders.
Morocco
Moroccan Arabic fades into Algerian Arabic in the east and Libyan Arabic in the south. It has a number of mutually intelligible varieties, associated with urban centers such as Rabat–Casablanca, Fez, Meknes, Tangier, Oujda, and Marrakech. Andalusi Arabic has influenced the dialects of such towns as Fez, Rabat, and Tangier.
Algeria

Algerian Arabic overlaps with Moroccan Arabic in the west, and Tunisian Arabic in the east. Algerian Saharan Arabic is spoken by some 100,000 people on the border with Morocco along the Atlas Mountains. It is structurally different from all other Maghrebi varieties.
Tunisia
Tunisian Arabic overlaps with Algerian Arabic in the west and Libyan Arabic in the south. There are several varieties spoken around Tunis, the capital of Tunisia, and Sfax, as well as in the Sahel region in the east.
Structure
Sound system
The sound system of Moroccan Arabic, as representative of the Maghrebi dialects, is described below.
Vowels
Moroccan Arabic has six vowel phonemes, i.e., sounds that differentiate word meaning. It has five short and one long vowel. Vowel length is prepresented by a colon, i.e., /a:/ is a long /a/.
Consonants

Moroccan Arabic has 31 consonant phonemes, i.e., sounds that differentiate word meaning.
The interdental consonants /θ/ (th in thin) and /ð/ (th in those) have been lost.
As in other varieties of Arabic, there is an opposition between voiceless, voiced, and emphatic stops and fricatives.
There are eight emphatic consonants /ḅ, ț, ḍ, ṣ, ẓ, ṃ, ḷ, ṛ/. Emphatic consonants are pronounced with greater tension than their plain counterparts and with the back and root of the tongue raised towards the roof of the mouth. Emphatic consonants are marked with a dot under the consonant.
Geminated, or doubled, /bb/, /mm/ have emphatic counterparts /ḅḅ / and /ṃṃ/.
Unlike MSA, Moroccan Arabic allows consonant clusters and geminated (doubled) consonants at the beginning of syllables.
Palatal
voiceless
plain

t

xx

k

q

ʔ

emphatic

ț

voiced
plain

b

d

g

emphatic

ḅ

ḍ

voiceless
plain

f

s

ʃ

x

ħ

h

emphatic

ṣ

voiced
plain

z

ʒ

ɣ

ʕ

emphatic

ẓ

plain

m

n

x

x

emphatic

ṃ

plain

l

x

emphatic

ḷ

Tap
plain

r

x

xx

x

emphatic

ṛ

w

j

x
/ḅ, ț, ḍ, ṣ, ẓ, ṃ, ḷ, ṛ/ are emphatic consonants that have no counterparts in English.
/ʔ/ = sound between the syllables in uh-oh.
/ʃ/ = sh in sheep
/ʒ/ = s in vision
/q, x, ɣ, ħ, ʕ/ have no equivalents in English. All these consonants are pronounced in the back of the oral cavity.
/j/ = y in yet
Stress
Unlike MSA, the system of stress placement in Moroccan Arabic is complicated by the fact that variable vowels can be omitted.
Grammar
The grammar of Moroccan Arabic, described here as a representative of the Maghreb dialects, differs from that of MSA in a number of ways.
Nouns, adjectives and pronouns
Unlike MSA, Moroccan nouns are not marked for case.
The form for the definite article is l- or le-, e.g., l-ktab 'book' and le-ktab 'the book'.
Plurals are formed by adding the suffixes –in/-at to the root, e.g., yedd 'hand' – yeddin 'hands', namusiya 'bed' – namusiyat 'beds', or by changing the root vowel, e.g., ktab 'book' – 'ktub 'books'. Adjectives are also marked for plural, e.g., ktab mezyan 'good book' and ktub mezyanin 'good books'.
The dual number has disappeared in Moroccan Arabic, except in units of measurement or time. Only nouns can have a dual form.
There are two genders: masculine and feminine. Masculine nouns typically end in a consonant, e.g., ktab 'book', while feminine nouns usually end in –a, e.g., tebla 'table'. Adjectives are also marked for gender, e.g., tebla kbira 'big table'.
Adjectives agree with the nouns they modify in gender and number.
Possession is expressed by the preposition dyal-, e.g., lbit 'the room' + dyalha 'belonging to her' + sghira 'small'.
Demonstrative pronouns are placed before the definite article, e.g., had l-ktab, literally 'this the book', dak l-ktab, literally 'that the book'.
The pronoun ana 'I' takes a masculine or feminine adjective depending on whether the speaker is a man or a woman.
There are three forms of the pronoun 'you'. Nta is used when speaking to a male, nti when speaking to a female, and ntama when speaking to more than one person.
Verbs
The basic verb root consists of three consonants with no vowels added. In MSA the imperfect stem inserts vowels, whereas in Moroccan Arabic no vowels are inserted.
Verbs are inflected for tense, aspect, and the person, gender, and number of the subject and object using prefixes and suffixes.
Moroccan verbs are built upon three stems: (1) a nonpast stem from which all imperative, present, and future forms are formed; (2) a past stem used for 1st and 2nd person forms; and (3) a past stem used for 3rd person forms.
Each verb falls into one of seven classes depending on what shape their stem takes the nonpast and past forms.
Unlike MSA, Moroccan verbs do not mark gender distinctions.
Object pronouns are attached to the verb, e.g., ʒab 'he brought' + i 'me' = ʒabi 'he brought me'.
Negation is expressed both by the prefix ma- and the suffix –s(i), e.g., kteb, 'he wrote', ma-kteb-s 'he didn't write'.
Like MSA, Moroccan verbs have a past, or perfective, suffixed conjugation and a non-past, or imperfective, prefixed conjugation.
The present tense is formed by prefixing the particle ka– to the verb, e.g., ka-ddxol 'she goes in, she's going in'.
The future is formed by using the future auxiliary ghadi before the verb.
There is no copula verb 'to be' in the present tense, e.g., hija mreiḍa, literally 'she sick'.
Word order
The normal word order in Moroccan Arabic is Subject-Verb-Object. Adjectives follow the nouns they modify, e.g., ṛaʒel kbir literally 'man big'.
Vocabulary
Moroccan Arabic shares its basic vocabulary with other varieties of Arabic. At the same time, Moroccan Arabic is thought to be the least conservative variety of Arabic because it is more open to borrowings from other languages. It has integrated many words from Berber, French, Spanish, Turkish, and most recently from English. Examples in Moroccan Arabic are neggafa, 'wedding facilitator' from Berber taneggaft; forchita, 'fork' from French fourchette; simana 'week' from Spanish semana.
A few basic words and phrases in Moroccan Arabic are given below.
| | |
| --- | --- |
| Yes | Iyeh |
| No | La |
| OK | Wakha |
| Please | 'Afak |
| Thank you | Shukran |
| Peace be upon you (universal greeting) | Ssalamu 'lekum |
| Goodbye (with peace) | Mm'a ssalama |
| If God wills | Ensha'llah |
Below are Moroccan Arabic numerals 1-10. MSA numerals are given below for comparison.
| | 1 | 2 | 3 | 4 | 5 | 6 | 7 | 8 | 9 | 10 |
| --- | --- | --- | --- | --- | --- | --- | --- | --- | --- | --- |
| Moroccan Arabic | whd | zhuzh | tlata | rb'a | hmsa | stta | sb'a | tmnya | ts'ud | 'shara |
| Modern Standard Arabic | waahid | thneen | tlaatha | arbaa | khamsa | sitta | saba | thmaanya | tisa | ashra |
Writing
Moroccan Arabic is strictly a spoken language and is rarely written. However, on occasions when it is written, the Modern Standard Arabic script is used. The script is described in the Arabic Overview on this website. The script does not accurately reflect Moroccan Arabic pronunciation.
Moroccan Arabic (Wikipedia)
Moroccan Spoken Arabic (Ethnologue)
OLAC Resources in and about Moroccan Spoken Arabic
Difficulty