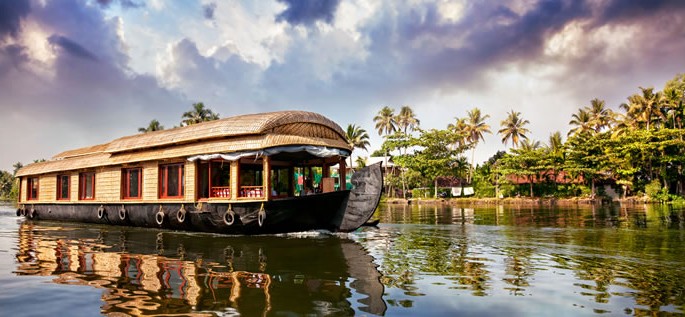 Indo-Aryan Branch
Indo-Aryan languages represent the easternmost branch of the Indo-European language family. They are spoken by close to one billion people in India, Pakistan, Bangladesh, Nepal, parts of the Himalayas, and in Sri Lanka. There are 219 Indo-Aryan languages, some of which are yet to be definitively classified (Ethnologue). There is also a far-flung Indo-Aryan speaking diaspora encompassing U.S., Canada, U.K., South Africa, Fiji, Trinidad, and Mauritius.
Most scholars subscribe to the hypothesis that the original homeland of Indo-Aryan speaking people was an area located northwest of the Indian subcontinent bordered by the Caspian sea in the east and Afghanistan in the north. From there, they migrated to the south and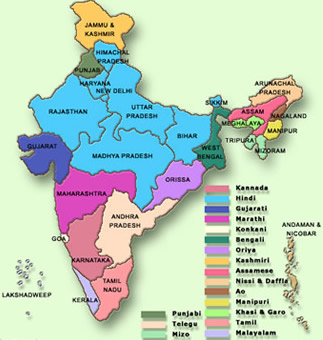 east sometime in the 2nd millennium BC.
Indo-Aryan languages have gone through several stages in their history:
Old Indo-Aryan languages, as represented by Sanskrit, preserved in numerous sources as the liturgical language of Hinduism, Buddhism, Jainism.
Middle Indo-Aryan languages.The earliest preserved Middle Indo-Aryan languages were used for literary, philosophical and religious works, dating to the 3rd century BC. The most advanced stages of Middle Indo-Aryan are found in Apabhramsa (meaning 'corrupt, non-standard') dialects used for literary purposes before the 6th century AD. All Middle Indo-Aryan varieties can be subsumed under the term Prakrit 'natural, ordinary,' referring to spoken vernaculars as opposed to the refined language represented by Sanskrit 'excellently made.'
Modern Indo-Aryan languages which include most of the modern languages of India. They are represented in numerous literary documents from the 12th century on.
The table below lists modern Indo-Aryan languages with at least 3 million speakers.
| Language | Number of speakers | Where spoken primarily |
| --- | --- | --- |
| | 180 million 1st language and 300 2nd language speakers | India, Pakistan |
| | 207 million 1st and 2nd language speakers | Bangladesh, India |
| Urdu | 60.5 million 1st language and 104 million 2nd language speakers | Pakistan, India |
| Marathi | 68 million | India |
| | 89 million | India, Pakistan |
| | 46 million | India |
| | 32million | India |
| | 26.5 million | India |
| | 25 million | India |
| | 21 million | Pakistan, India |
| Awadhi | 20.5 million | India, Nepal |
| Nepali | 17.2 million | Nepal, India |
| Assamese | 15 million | India |
| | 14 million | Pakistan |
| Chittagonian | 14 million | Bangladesh |
| | 13 million | Sri Lanka |
| | 13 million | India |
| | 13 million | India |
| Haryanvi | 13 million | India |
| | 11.5 million | India |
| | 11 million | India |
| Sylheti | 10.3 million | Bangladesh |
| Dhundari | 9 million | India |
| Konkani | 7.6 million | India |
| Mewati | 5 million | India |
| Kashmiri | 4.6 million | India |
| Shekhawati | 3 million | India |
Status
Many Indo-Aryan languages have official or co-official status in their respective countries.
India
Assamese, Bengali, Bodo, Dogri, Gondi, Gujarati, Hindi, Kashmiri, Konkani,
Maithili

,

Marathi

,

Meitei

,

Nepali

,

Oriya,Eastern Panjabi

,

Sanskrit

,

Sindhi

,

Urdu
Pakistan
Urdu
Bangladesh
Bengali
Nepal
Nepali
Dialects
Most major Indo-Aryan languages form a continuum of regional varieties, many of them mutually intelligible due to significant lexical similarity. Whether some of them are dialects of one language or separate languages is often difficult to establish on purely linguistic grounds. Since India and Pakistan are also home to Dravidian and Austro-Asiatic languages, it is not surprising that India's Indo-Aryan languages have been influenced by the languages of their non-Indo-European speaking neighbors.
In addition to regional differences, Indo-Aryan languages encompass a number of social dialects associated with caste, as well with religious differences that affected the selection of writing systems for languages that are spoken by Hindus and Moslems, e.g., Hindi vs Urdu, Eastern vs Western Panjabi. Bilingualism and multilingualism is a norm in the Indian subcontinent. Speakers of many languages, Indo-Aryan, Dravidian, and Austro-Asiatic, live side-by-side and are able to communicate with each other on a daily basis. They learn each other's language not in school, but informally through daily contact. As a rule, schools do not teach more than three languages, one of which is English.
Both Hindi and English are extensively used in addition to regional languages. Education in English continues to be a prerequisite for social status. English remains the sole language of higher education in almost every field of learning. Code-switching between regional languages, Hindi and English is extremely common, especially among educated Indians.
Structure
Sound system
The sound systems of Indo-Aryan languages have several features that distinguish them from the rest of Indo-European languages. Not all these features are present in all Indo-Aryan languages.
Vowels
Most Indo-Aryan languages make a distinction between long and short vowels. In addition, many also distinguish between oral and nasal vowels. There are no vowel sequences.
Consonants
The consonant inventories of some of the major Indo-Aryan languages are given below (from Wikipedia). Although there is some of variation among the consonant systems of the Indo-Aryan languages, most of them incorporate the following features:
Most consonants can be doubled (geminated). Consonant length affects word meaning.
Contrast between aspirated and unaspirated stops and affricates, including voiced ones, e.g., /p/—/pʰ/, /t/—/tʰ/, /k/—/kʰ/ , /b/—/bʰ/, /d/—/dʰ/, /g/—/gʰ/, /tʃ/ – /tʃʰ), /dʒ/ – /dʒʰ/. Aspirated consonants are produced with a strong puff of air.
Contrast between and apical and retroflex stops, affricates, nasals and rhotics, e.g., /t/—/ʈ/, /d/—/ɖ/, /tʃʰ/ – /ʈʃʰ/, /n/ – /ɳ/, /r/ -/ɽ/. Apical consonants are produced with the tip of the tongue touching the roof of the mouth, whereas retroflex consonants are produced with the tongue curled, so that its underside comes in contact with the roof of the mouth.
Many languages have a rich complement of nasals.
Limited use of consonant clusters.
Absence of word-final consonants.
Stress and tone
Stress in many Indo-Aryan languages normally falls on the penultimate (i.e., next to the last) syllable of a word. Thus, position of stress alone does not affect word meaning. A few languages have tones. Panjabi, for instance, has three tones: High, Mid, and Low. The tone of a word is a pitch pattern permanently associated with it. A change of tone changes the meaning of a word.
Grammar
Indo-Aryan languages are inflectional, i.e., they use prefixes and suffixes to signal grammatical relations.
Nouns
Nouns are inflected for number, gender, and case.
The number of cases varies from language to language. Overall, there is a tendency for modern Indo-Aryan languages to lose the numerous case distinctions of Sanskrit.
Post-positions rather than prepositions govern noun cases. Post-positions require the use of the oblique case.
Modifiers agree with the nouns they modify in number, gender, and case.
Verbs
Verbs are marked for person, number, tense, aspect, and mood.
Verbs agree with their subjects in person and number.
There is an honorific 2nd person marked in the pronoun and in the verb form.
Honorifics
Indo-Aryan languages are rich in honorifics that cover formal and informal relationships. Honorifics may be expressed in different ways (prefix, suffix, or replacement). For instance, in Hindi, the traditional honorific is a suffix. Mahatma Gandhi was often referred to as Gandhi-ji.
Word Order
The normal word order is Subject-Object-Verb. The position of the verb is fixed, but the other constituents may move around, depending on semantic and pragmatic considerations. Modifiers precede nouns they modify.
Vocabulary
Due to the influence of Hinduism, most Indo-Aryan languages derive their high-level vocabulary from Sanskrit. As a result of the Moslem influence in Northern India, they also have many Persian, Arabic and Turkish loanwords. Due to the influence of Islam, Urdū vocabulary has a greater percentage of loanwords from Persian and Arabic than does the vocabulary of Hindi. Indo-Aryan languages have also borrowed vocabulary from their non-Indo-European neighbors, e.g., Bengali has many loanwords from Austroasiatic languages, while Marathi has a large number of loanwords from Dravidian languages spoken to the south.
Below are some kinship terms in four Indo-Aryan languages that show similarities and differences.
| . | Man | Woman | Mother | Father | Child |
| --- | --- | --- | --- | --- | --- |
| Hindi | purusha, ādamī | nārī, strī | mātā | pitā | baccā |
| Urdū | ādmī , mard | oarat | mān, ammi | wālid, bāp, abbu | bachchā |
| Bengali | purush, mānush | nārī, mohilā | mā, āmmā, mātā, mātri | bābā, pitā | bachchā |
| Panjabi | admi, manokh, parokh | aurat | man, mata | bap, pitt, pita | balak, bachcha |
Below are the numerals 1-10 in five Indo-Aryan languages.
| | 1 | 2 | 3 | 4 | 5 | 6 | 7 | 8 | 9 | 10 |
| --- | --- | --- | --- | --- | --- | --- | --- | --- | --- | --- |
| Hindi/Urdu | ek | do | trīn | car | pānc | che | sāt | ath | nau | das |
| Gujarati | ek | be | treņ | cār | pãc | cha | sāt | āţh | nav | das |
| Oriya | ek | du'i | trini | chāri | pānjch | cha'a | sāt | āth | na'a | dash |
| Bhojpuri | e:k | dui | ti:n | ca:ri | pã:c | cʰæ | sa:t | a:tʰ | nao | das |
| Sindhi | hiku | ba | ţī | cāre | pañja | chaha | sata | aţha | nava | daha |
Writing
Indo-Aryan languages are written in several scripts, many of which are derived from the Brāhmī script Devanāgarī, while Moslems tend to use the Perso-Arabic script.
One script – many languages
The Devanāgarī script is used for writing Sanskrit and serves as the official script for Hindi and a number of other languages (see below). There are some differences in the way the Devanāgarī script is used for writing Hindi, Marathi, Nepali, and other languages. Urdū and a few other Indo-Aryan languages are written in the Perso-Arabic alphabet.
One language – many scripts
Some languages are written in more than one script. For instance, Kashmiri is written in Devanāgarī, Perso-Arabic, and Roman scripts; Bhojpuri is written in Kaithi and Devanāgarī; Panjabi is written in Devanāgarī, Perso-Arabic, and Gurmukhi.
The scripts that have evolved from the Brāhmī script are called syllabic alphabets, or abugidas. They contain symbols for consonants and vowels. The consonants have an inherent vowel, usually [a], which can be changed to another vowel or suppressed by diacritics placed over or under the consonants. Vowels are represented by separate symbols when they occur at the beginning of words or in isolation. Special conjunct symbols are used when two consonants occur together.
Letter 'a'

Script

Language

Bengali
Bengali is an early Devanāgarī-derived script that appeared in eastern South Asia around the 11th century AD. It is currently used in Bangladesh and in the state of West Bengal in India.
Bengali, Assamese, Meitei, Sylheti
Devanāgarī
Devanāgarī is a descendant of the ancient Brāhmī script of India. Many languages in India use Devanāgarī or its local variations. The name Devanāgarī consists of deva 'deity' + 'nagari 'city.'
Hindi, Marathi, Sanskrit, Sindhi,Panjabi, Nepali,
Maithili

i,

Magahi

,

Marwari

,

Chhattsgarhi
Gujarati
Gujarati script is an adaptation of the Devanāgarī script. It was used for routine correspondence and record-keeping until the 19th century.
Gujarati
Oriya
Oriya script is based on an early form of the Bengali script.
Oriya
Gurmukhi
The Gurmukhi script was created for writing Panjabi by a Sikh guru in the 16th century. It is based on a variant of the Sarada script which, in turn, is based on the Brāhmī script. Gurmukhi consists of guru 'sage' + mukhi 'mouth.'
Panjabi
Sinhala
The Sinhala alphabet is a descendant of the ancient Brāhmī script of India. It dates back to the 3rd-2nd centuries BC. The earliest surviving literature in Sinhala dates from the 9th century AD.
Sinhalese
Kaithi
Kaithi is a script dating back to the 16th century. It was widely used during the period of the Mughal Empire. In the 1880s, during the British Raj, it was recognized as the official script of the law courts of Bihar, India. It is used for writing Bhojpuri.
Bhojpuri
Perso-Arabic
An adaptation of the Arabic script used to write Urdū since the 12th century AD.
Urdū, Awadhi, Panjabi
Difficulty